June 6, 2012
Exposing Kids to the Outdoors
When Dindin was younger, I noticed that a lot of the books that we bought for her from the book sale were centered on animals. Some were realistic, some were cartoony, and some were cute. They were presented in different ways but the focal point was a certain animal or a group that can be found in a certain location (e.g. zoo, farm, jungle, sea, etc.)
And so were her videos. A lot of them featured animals, too.
I guess there are just so many things that children can learn about animals that perhaps some of the earliest learning of kids are about these creatures big and small.
So when we went to the USLS Granada Ecopark in Brgy. Granada, Bacolod City, Dindin was just so amazed in the 10-hectare park with so many things to see. We were able to inspect earthworms and their poop, mating moths, as well as other bugs that were crawling, squirming or flying. It was just a different experience for her to be able to see these little critters face to face.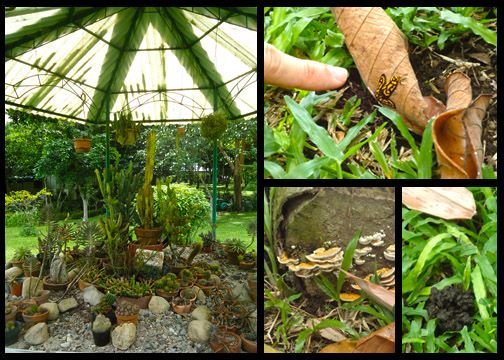 You see, there was a time that Dindin got so interested in insects that the book in the picture above was her bedtime story. The toys were part of a bug study set that I bought at SM Supermarket for P50. At P50, with the tweezers and magnifying glass, Dindin felt like a bug detective. So you can just imagine how she must have felt when she actually had do something like that in the real world!
So if you have an opportunity, take your kids outdoors and expose them to the different species of plants and animals around. That will surely open up their minds to these little creatures.
Note: One thing that we taught Dindin, we can quash the bugs inside our bedroom but not when we are outdoors because that is their home (except mosquitoes, of course!) I am looking forward to the day that we can go camping and experience nature overnight! Weeee We will just have to bring a lot of bug spray because Dindin is allergic to insect bites. hehe