February 5, 2012
Epistle 5 – Patience and Obedience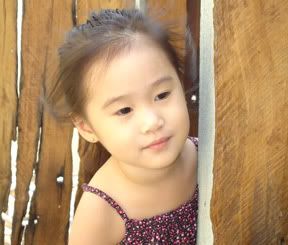 My Dearest Dindin,
It has been quite some time since I have written a letter to you. So many things have happened in you and to you. You have grown and matured a lot. In fact, you will be three years old already in about a month. And Mama has already started preparing for your third birthday party with a Tinkerbell party theme.
In the past several months, we have a fought a lot. It was a battle of wits and wills always. Your Papa and I are always stressed and in the end, you will go to your Papa for comfort. But lately, I thank the Lord because it seems that He has changed something in me that Mama has become more patient towards you. And the result, you have also become more obedient to Mama.
Strange as it may seem but the fact is, you wanted gentle coaxing and loving care–not stern punishment in order to wield obedience from you. It was Mama's mistake, Din.
But all those times that we fought and Mama shouted at you or hurt you unnecessarily, Mama has asked for forgiveness from God and from you. And every time, you would look up to see with your innocent eyes and say gently, "Okay. Don't do it again." My heart is crushed. But thank you, because you have such a forgiving heart. You have been like that since you were little.
I continue to thank God for you and ask Him to remind me that you are a symbol of His grace to us. After all, your name, Shawna, means "The Lord is Gracious."
This year, Mama is thinking of giving you a lot of opportunities to make summer memories. You are already older and can remember a lot of things already. So this is going to be one fun and long summer for our family.
I love you so much, Dindin. Papa and Mama both do.
God bless you!