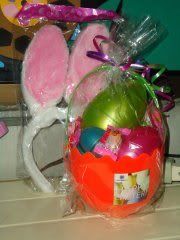 We were invited to join the Easter activity at SM City Bacolod by my blogger-kumare, May, who is now their new PR Manager. We were told that for a minimum purchase of P500 at the mall in the past week, we were already allowed to register.
We did not really know what was in store but thankfully, we purchased a Wow Karaoke Gadget last Sunday so we were qualified. When we went to the admin office to register, we were already given an Easter basket and a pink bunny ears headband. Then May encouraged us to join in the costume parade. I told her that Dindin did not really have a costume save for the tutudress that she wore on her third birthday. May said it was fine and to make the story short, we came the next day.
When we got to the SM Event Centre, I also had in tow two young girls–the nieces of our helper. They were standing behind me when the nice lady facilitated our registration. She asked about the two girls but I told her that we only had one receipt. She asked how much our purchase was and when I told her it was P6,500, she readily accommodated the two other girls so that they can join. That was great management call for Customer Relations and we truly appreciate it. That's going the extra mile. Too bad I was not able to get her name.
Anyway, we thought that Dindin was candidate number 7 because of the pre-registration. It turned out that the first 6 did not join and so Dindin was the first contestant. When she got on the stage, she hopped about happily because I told her she was the "Fairy Bunny." Of course, we just made that up. But she refused to go down the catwalk because she was whisked away by the production people. She got shy. When her Papa took her down, that was when she walked.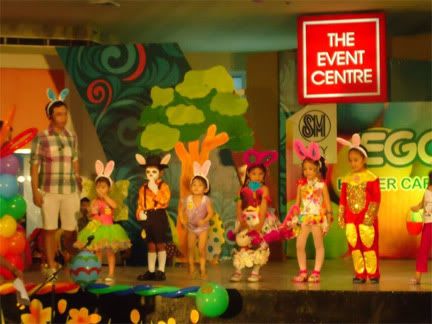 We were already very happy that she did walk so I already bought her ice cream as promised. What I didn't know was that, they have to parade in front of the judges again. So Dindin went again, this time, while eating ice cream. But at least she walked and we were already happy and we praised her for a good job.
While the rest of the contestants paraded, I already got to talking to my mommy-friend Daphne whose daughter also joined in another category. We also had another friend over, Millie, who watched the event with us. I thought that the program was over. Then in the midst of our discourse, I heard Dindin's name being called so I asked what that was about. She was chosen in the Top 5! Weeeeee Really? So I went nearer the stage to take her photo.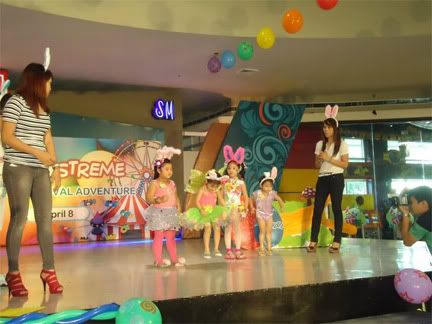 And so there were runners-up. Her name was called second to the last! Weeeee Dindin was first runner up or first consolation prize! Isn't that great?
I never expected Dindin to walk because she is still young and to even win anything. You see, the other contestants were well prepared that we really gawked at their intricate and colorful costumes. They were a sight to see. So we thought that our joining was just for fun. And we were already happy that we had a loot basket filled with Easter eggs. LOL So winning first runner-up was just memorable.
Dindin won a gift certificate worth P100 from WOF. It was not much but she appreciated it because that was her prize. She did not even know what was that for but until we went home, she kept on looking at it and said that it was her prize. I just sure wish that they had more prizes for the runners-up because the other contestants really poured in a lot of effort and money into their costumes and looks (well at least the parents did). On our part, that's fine because we only used her birthday dress. But of course, we would appreciate a token or something. LOL
Anyway, that was a fun experience for all of us. And I hope that Dindin learned that if she behaved and did something like that, she could get rewarded. Will we do this again next Easter? Maybe. teehee Thanks SM City Bacolod! And thanks, May, for encouraging us. We had a grand time!