July 1, 2011
Doctor Barbie and Our Colorful Puzzle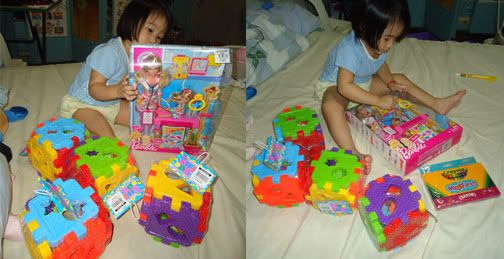 Last night we were at SM for their SMAC Sale. It was just timely that Lolo Tito sent us money for Dindin's Barbie. You see, I remember that when I was still a child, it was my Tito Nene who bought me my first Barbie Doll, which turned out to be my last as well. It was just way toooooo expensive for my parents to buy one for me.
But for Dindin, I never really got interested in buying one for her until I saw that there is a Barbie series called, "I can be a…" There are two dolls that I am interested in, and that is is the "I can be a doctor Barbie" and "I can be a Ballerina teacher." That is because of all professions, Dindin is always pretending that she is a doctor. And she also pretends that she is a ballerina. So I asked Lolo Tito if he could also give one to Dindin and he agreed! Yey! He sent us the money and it was so timely since there was a discount last night, we were not only able to buy the "Doctor Barbie", we also got four of those shape sorter cubes.
You would think that Dindin is already quite old for the shape sorter because by now, she can already recognize and say shapes like "trapezoid" and "hexagon" very clearly. But because I did not get just one but four of them it became an entirely different game. We connected all the pieces and I came up with that tubular thing.


But then I let Dindin play with it for awhile and when I looked around at her, she disassembled everything and started making a mat shape. With her grandma, they made the arrangement below. hihi Well, this is already a short family time.


Thank you very much Lolo Tito for sponsoring these stuff for Dindin! Greatly appreciated! Dindin is really happy with them!