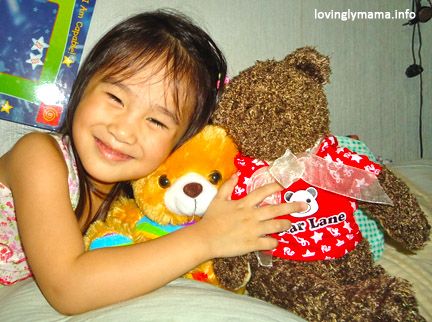 Thanks to Tita Pepay, Dindin got this DIY Teddy Bear as a homecoming gift last April but we did not open it till now, when she's a little older.
Of course I did the sewing, but Dindin has to do most of the stuffing part and the dressing up. She also helped me tie the ribbon.
It's very nice that in the United States, there are so many DIY products and crafts kits that you can buy in the store and work on at home. This is just perfect for those who are not very creative to think of their own crafts projects or just do not have the time to make a research and buy materials separately.
Needless to say, we enjoyed our project for the day. 😀 Thanks Tita Pepay!
Note: The DIY Teddy Bear is called Nanny's Bear Kits Make Your Own Bear and is made by Northern Gifts. You can check out their website at www.BearKits.com. This bear is intended for kids 8+ because of the sewing involved. But since I did the sewing and Dindin the stuffing, that is fine. The stuffing is made of polyester fiberfill so it is hypoallergenic.