Last week, we went to Robinsons so naturally, we dropped by Toys R Us and just browsed. Dindin would play around toy store while Papa and I just looked. Just when we were about to leave, we saw at the entrance that there were bargain toys. Most were slightly damage but we saw some Disney Princess Walkie Talkies for you know how much? P20! You read it right, twenty pesos!
So naturally we bought it. It works! You have to use a (1) 9-volt battery for each. But imagine that. The original price is P400 but since it is an old stock and the packaging is already ugly, we got it at P20. We were so happy. And it is pink, perfect for Pink Fridays! Weeee
I actually my husband, even if it doesn't work, it is still worth it. I mean, the toy cellphones at the China goods store also sell at P10, so why not these?
I am also sharing here another pink photo. This is a very relaxed kid in her pink dress surrounded by her pink toys, Poochie and Funky Teddy.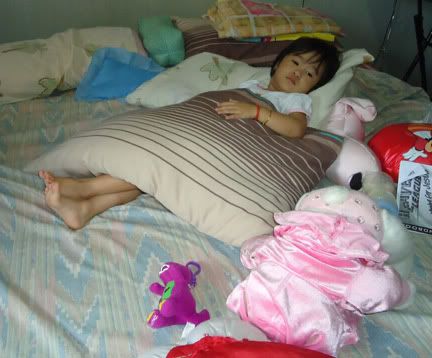 So, that's all for now, folks. 😀