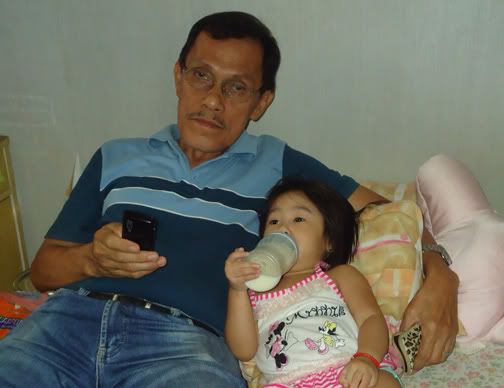 Dindin has a special relationship with my father, her paternal grandfather. When she was less than one year old, she called him Lolo. But eventually, when she heard us call my father, Tatay, she also started calling him "Tatay." And he was "Tatay" ever since.
But now, she is already calling Tatay as her "Special Friend." And she would tease my mother that she is not. Then she would laugh.
I just find this a lovely thing. I would also have wanted to have the same. It is just that my paternal grandfather, whom my mom said loved me very much, died early when I was just a year old. My paternal grandfather, on the other hand, also loved me but in a different way. And although I spent time with him, it seems that my grandmother was always in the way. hehe
Anway, Tatay and Dindin just have that special bond that nobody really shares with her, not even my Mom. I think because Tatay is very patient and playful that Dindin really likes being with him. She is really sad when goodbyes are said. I just love seeing them together.
"What children need most are the essentials that grandparents provide in abundance. They give unconditional love, kindness, patience, humor, comfort, lessons in life. And, most importantly, cookies." ~Rudolph Giuliani
"A grandfather is someone with silver in his hair and gold in his heart." ~Author Unknown