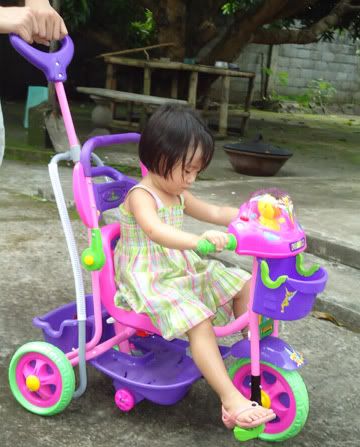 Dindin likes riding and playing with the toddler bicycles at SM Department Store, Toy Kingdom and SM Hypermart whenever we go there. It is as if we just go there just to play and not to shop. We can spend an hour in the stores just letting her play while Mama wanders off to see the displays or to go shopping.
After playing, she would put back the bikes, say good bye to it, and we will be on our way around the mall. But thanks to my brother Iman, now Dindin has a brand new predominantly purple bike.
Isn't it lovely? We also put Tinkerbell stickers all over because she likes Tinkerbell. We did not buy a character bike because it would be more expensive. So the stickers will do.
Though Dindin is still not strong enough to pedal the bike and let it run, she would just place her feet on the pedal and let them follow the movement as her Papa pushes the bike around. Too bad though that we don't have space at home for her to bike around because we don't have a large yard like this. This was taken this afternoon at my mother's yard. 😀 But we are too busy and we can't just come here every day, as it is also quite a considerable distance from where we live.
With the bike and the big pool that we have stashed there, I hope we can visit them at least once a week so that Dindin will also have the opportunity to play around there.