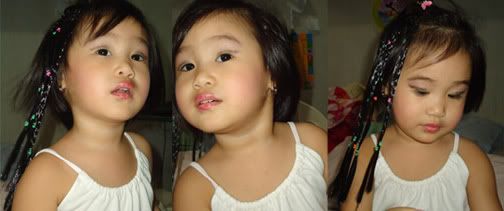 Following after my sister in law Maricar and my friend Sansan who had previously applied make up on their daughters, I, too, tried my hand at "playing" with Dindin's face. LOL When she was flower girl last year, I did not let the wedding make up artist do her face, after all, she was only 1 year and 7 years old. But today, well, she is almost 2 years and 3 months already and I thought, well, maybe there is no harm.
And she loved it! I applied some brown eyeshadow first. But she asked for, "pink." Okay, fine. On her lower lids, I applied eyeliner and black eyeshadow. My baby looks so Chinese! Well, she had some light blush and lipstick. But she did not know how to position her lips properly so it kinda smeared. hehe And then I fixed her hair and attached some hair extensions and she absolutely adored it! I could hardly keep her away from the mirror so that I could take her picture.
When she took a nap in the afternoon, she did not want to take off her make up. But when I told her that make up should be removed before sleeping, she agreed to my wiping her face with a wet wipe. hihihi She's so cute.
But of course, I did not tell my Nanay what I did to Dindin. She would have a fit! LOL Last time, I applied nail polish on Dindin's toe nails and she reprimanded me. weeeee My mother is conservative!