It's contest time! I am holding this contest to increase awareness about kids born with anorectal defects. Our niece, Mei-mei, who was born about a month after Dindin, had an imperforate anus. It is a birth defect without a known cause. It just happens.
What are colorectal defects or anorectal anomalies? Learn more here.
What is imperforate anus? Learn more here.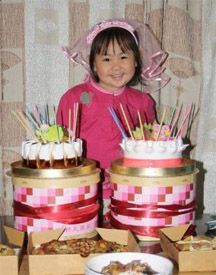 We were just thankful that in Mei-mei's case, that was her only problem and she did not have other complications that usually come with this condition. Just barely out of her mother's womb, Mei-mei underwent her first surgery. But it did not stop there. To fully correct the situation so that Mei-mei can have a normal bowel movement, she had to hurdle two more surgeries before her first birthday. You can just imagine the pain and stress that she had to go through.
But because of God's grace, you could not possibly see traces of that traumatic experience, except for the little scar on her side.
With that, my sister-in-law Maricar has launched the movement/social enterprise called ColorKiddos in order to help children born with similar conditions and whose parents are financially challenged. You see, aside from the three surgical procedures required, there are so many medical supplies and medicines needed until the child has fully recovered and his bowels fully working.
I am giving way to some words from Maricar:
"When Meimei turned 1 year old, my husband and I decided we would give a THANK YOU offering (financially) to honor God for His provision and to celebrate the successful journey of our daughter. But if we only gave the money to 1 child, it ends with that 1 child. So instead of giving the money to just one baby, we decided to use the money to start a business that will generate more income, to help more children. The best part was the community got involved. Family, relatives, friends, bloggers and even strangers not just in our City, but from other cities and provinces as well. Selling the product made the buyers so glad to be able to help and at the same time enjoy their purchase. So WHY ColorKiddos? Because it's not just my husband and I who want to help the colorectal children live a better life… Our families do. Our friends do. Our communities do. ColorKiddos is just one of the many ways we can help the less fortunate live better lives.

That is why I would like to ask our friends and family, bloggers and FB users, to please help us spread ColorKiddos in the net. The more people know about us, the more chances we have in providing support to the parents in caring for their ColorKiddo and the more chances we have of helping these kids live a better life. Thank you in advance and may God Bless your heart."
I am holding this contest to increase the number of followers of ColorKiddos on Facebook. But if you can write about this and link up ColorKiddos.net on your blog, that would surely be appreciated. That will surely let many people around the world through the internet about this birth condition and the movement that ColorKiddos is spurring.
And since this is a contest, we do have prizes for three winners. We will give $20 to one person and $5 each to two others, which will be sent through Paypal. You may think this is not much but well, just think that you are helping underprivileged colorectal kids in the Philippines. We are doing this to gain international attention for this cause.
Please find Rafflecopter code below to join the contest. Please spread the word, too, among your family and friends. That would surely go a long way in giving hope to ColorKiddos in the Philippines.
a Rafflecopter giveaway

ColorKiddos
FB page https://www.facebook.com/ColorKiddos
website http://colorkiddos.net/
email/ym: colorkiddos@yahoo.com
skype: colorkiddos