First of all, I would like to thank everyone who joined this giveaway and who supported ColorKiddos by Liking, Tweeting, and Blogging about this cause.
ColorKiddos Gives Hope to Colorectal Patients in the Philippines
We will send you an email to confirm that you are a winner. Please respond to that and indicate there your Paypal email so that we can send your cash prize. The first name that you see wins the $20 while the second two names will get $5 each. Thank you very much for joining and for supporting the cause of the ColorKiddos in the Philippines! 😀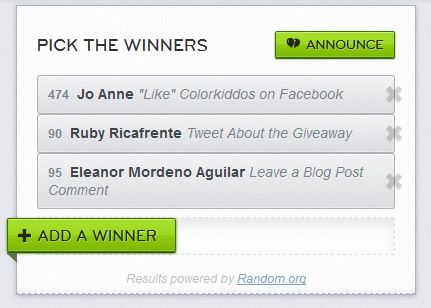 Here are some words from my sister-in-law, Maricar, the proponent of ColorKiddos. 😀
From the bottom of my heart, I would like to thank you all for taking part in the giveaway – liking ColorKiddos FB page and going the extra mile of blogging and tweeting about us. Special thanks goes to my sister-in-law for hosting this. SALAMAT!
Even after this, you can still be part of ColorKiddos thru the following:
1. We accept wholesalers, just pls send us a message through our Facebook Page or email us.
2. Purchase ColorKiddos products 🙂 They are very nice gift items to family and friends.
3. Repost our updates on your wall or LIKE the post, at least that way your friends can see them also.
Lastly, allow me to encourage you with the words from the Bible that I share with ColorKiddos customers / supporters:
2 Corinthian 9:11 – "YES, you will be enriched in every way so that you can always be generous. And when we (ColorKiddos) take YOUR GIFTS to those who need them, they (colorectal children) will THANK GOD."
—Maricar Lo