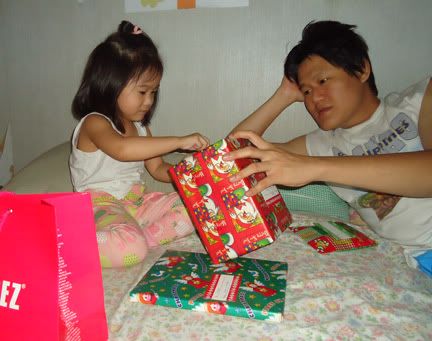 Despite a happening that involved another parent about the children's choir, we have made a decision to make this a happy Christmas and to go on with our plans and traditions. We did not want one person to spoil our Christmas just because of her harsh words and assumptions against my husband and I.
When we woke up, Dindin got to open our Christmas gifts for her. Yep, gifts from Papa and Mama first. Since we slept late, we woke up late too, so after the presents, we prepared to go to church. Of course we were late but I did not really want to rush on Christmas Day.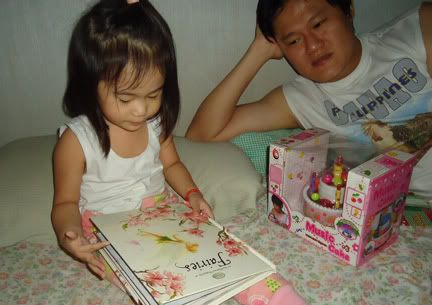 Then we had a late lunch at the Yellow Cab. My brother and sister in law already went around looking for a place to eat but it was full everywhere. So we settled at Yellow Cab where we also had Christmas dinner last year. LOL But it was fine because we all love pizza anyway. After lunch, we just went around the mall for awhile before we went home to take a nap.
In the afternoon, it was time for Dindin to open her presents. And below are her photos while opening presents wearing a reindeer headband. Thank you to all her aunties and uncles, grandparents, ninongs and ninangs, and friends who remembered her. Dindin was really grateful and appreciative of each present. But more than that, we know how much you love and care for her. So thank you! 😀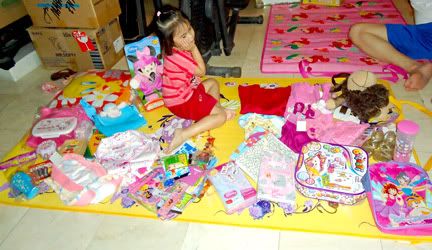 In the evening, it was off again to have dinner at my parents' home. We had a really long day!
***********************
Dennis and I also opened our gifts. Of course, these are not as many as Dindin's! teehee Thank God Dennis is not an executive, no need to choose briefcases for men for him. Dindin and I got him a couple of shorts and he was already happy. These are things that he can really use. In my case, I got gifts from clients and Dennis got me a new optical mouse because my old one is starting to conk out.
Merry Christmas everyone! 😀