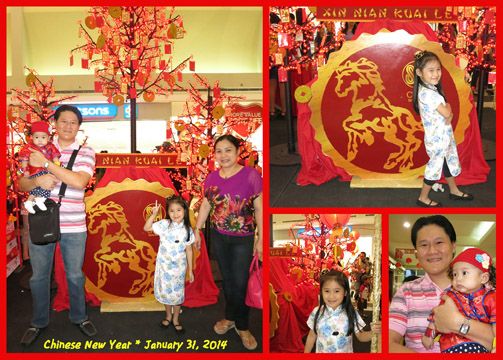 I married into a Chinese Christian family with my children being raised in such a household, but the Chinese traditions are loosely followed. On the other hand, while my mother's side of the family is also predominantly Chinese, they did not really embrace the practices nor do they speak the language.
But last night, as we celebrated Chinese New Year (Jan. 31) here in Bacolod City in an organized effort called the Bacolaodiat Festival, I felt good in the sense that my children are able to connect to their Chinese heritage. Dindin wore a Cheongsam while Shane had a Chinese shirt. We joined in the lauriat dinner at the Bacolod Pavilion along with hundreds of other Filipino-Chinese families.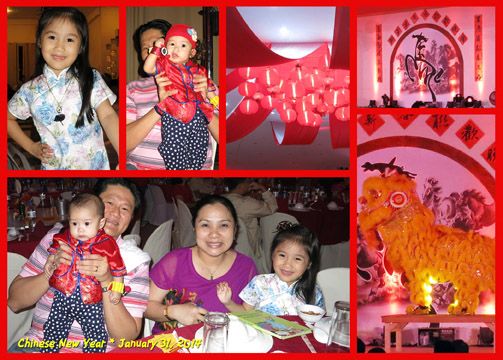 At first, I hesitated going there. I was really tired but my mother-in-law said that she went through a lot of effort to get everyone a ticket. And so we all went and I am glad that we did. Aside from the lauriat dinner, we were entertained with traditional dance and song numbers and we were regaled with tales about the Chinese history.
When we went home, the kids were given ang pao (red envelopes) that contained money by their grandparents and uncle and aunt.
I think that it is a great thing that there are events like these. We cannot deny that most of us have Chinese roots and it is nice to connect with our culture and heritage. Bless the hearts of the people who have organized and sponsored the 9th Bacolaodiat Festival. Your efforts and generosity to keep the Chinese culture in Bacolod alive are much appreciated.
It was a wonderful event last night. Most of all, we got to be with family. That's the most important thing.
Aside from the dinner last night, Dindin was able to join in the Bacolaodiat Festival opening program last Chinese New Year's Eve (Jan. 30) at the Chopsticks Alley beside the Bacolod Capitol Lagoon. She goes to a Chinese preschool called Bright Kids Preschool so she and her classmates were given a chance to perform. Proud Mama moment here because she looked so good in her red dress as she sang and danced with gusto on stage. No stage fright. 😀 Thank you Teacher Sheryl and all the teachers for making these events possible for the kids.
Today is February 1. A new lunar year has begun. God bless us all and Happy Chinese New Year! 😀