I was already on my last month of pregnancy when I learned about the Bacolod Mom and Baby Club (BMBC). They were holding a breastfeeding seminar entitled Breastfeeding 101 at SM City Bacolod. It was an RSVP event.
But since I did not know when I was going to give birth, I did not pre-register. A day after I gave birth to our second daughter, I was browsing through her newborn photos at the hospital when I happened upon the BMBC online poster that my hubby saved on the iPad. I thought that I could already make it because my baby would be 2 weeks old already by that time. I signed up and then forgot about it because of the effects of childbirth. Thankfully, they reminded me about the event and I am so happy that I attended.
You see, BMBC is a new group started by three young mothers, namely Yols Hortillosa, Tyna Quimpo, and Jireh Poquita–all breastfeeding advocates who have breastfed their kids. They come from different backgrounds and have different situations but they have managed to fully breastfeed their kids. You can see the heart of the proponents and I was really encouraged. They were also very warm and accommodating.
The Breastfeeding 101 seminar was their first event here in Bacolod and they brought in no less than certified lactation counselor Abigail Yabut. I learned so much from the event–things that I really needed because producing breast milk did not come naturally to me. And when I was about to give up, I posted about my travails on Facebook and Jireh responded to me, even kept on sending encouraging text messages just so I would go on.
Eventually, after much prodding from my husband and mother in law, I decided to buy an electric breast pump. Yols recommended the Spectra 3 Double Electric Breast Pump. She lent me her old pump to try before their new stock (which they are selling at Little Panda Shop) arrived. During the trial period, I really experienced an increase in my breast milk production and I was so happy. When my new pump arrived, Yols and Tyna visited me and even gave me more tips to express more milk. They were genuinely happy that I reached the point of fully breastfeeding my baby.
At the BMBC Facebook fan page, the trio keeps on posting important information about breastfeeding as well as events that they organize. Last month, they also successfully held a Cloth Diapering as well as a Baby Wearing seminar. I love it because I learn new things each time and also get encouraged to keep on breastfeeding my baby. You can also send them private messages for inquiries, to ask for advice, or just share your heart. <3
The group also regularly holds bazaars selling quality baby stuff, especially those pertaining to breastfeeding, baby wearing, and cloth diapering.
And the best thing is that they connect mothers with newborns and young kids in the city. There are those who have excess breast milk and who are willing to donate while there are those who do not have much breast milk and yet would like to give some to their babies. This is where BMBC comes in–they facilitate the donation of breast milk. They also facilitate the reselling of second hand stuff pertaining to breastfeeding, like breast pumps.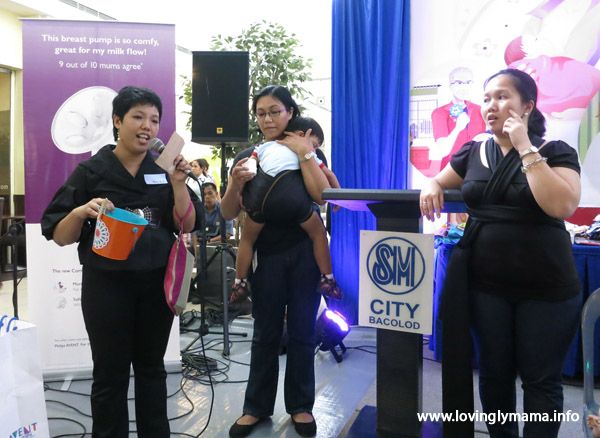 Such a lovely group of people behind the Bacolod Mom and Baby Club. It is my sincere wish that they will not stop their advocacy because I am one of those who are truly grateful for their help and encouragement. Okay, I guess I can say that I am one of their success stories. 😀 From the bottom of my heart, thank you very much Yols, Tyna, and Jireh! More power!
Like them on Facebook:
Bacolod Mom and Baby Club
Little Panda Shop