September 18, 2013
Babycloset.ph Giveaway Winners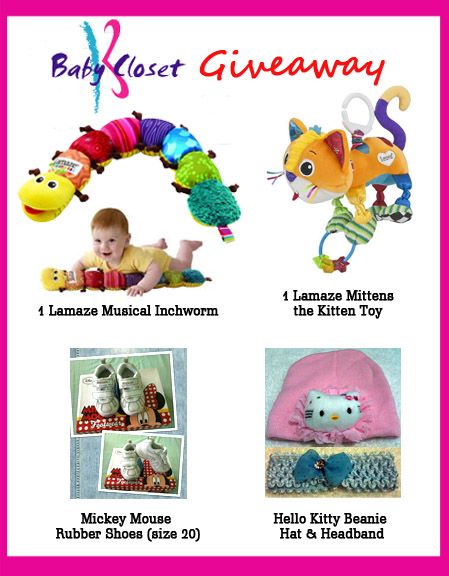 First of all, I want to thank all of you for the overwhelming support to the Babycloset.ph giveaway! And now it is time for me to announce the winners. I am so happy with the turn out of our giveaways here that I am encouraged to hold more in the future. The next one will be another Drypers giveaway, which I am sure you are very excited to join. Keep sharing the page and the Lovingly Mama blog. Thank you so much! 😀
Without further ado, here are the winners of our Babycloset.ph giveaway!
Lamaze Musical Inchworm – Claire Pajarillo Santiago
Lamaze Mittens the Kitten Toy – Pearliza Paguio
Mickey Mouse Shoes – Ellen Castel Cayaba
Headband – Mary Ann Cueto
Please send me a PM at the Lovingly Mama FB Page and indicate your complete name, address, and tel. no. so that our sponsor can send you your prize. 😀 Congratulations to all of you!
Again, thank you everyone for joining! And stay tuned for the Drypers giveaway! 😀