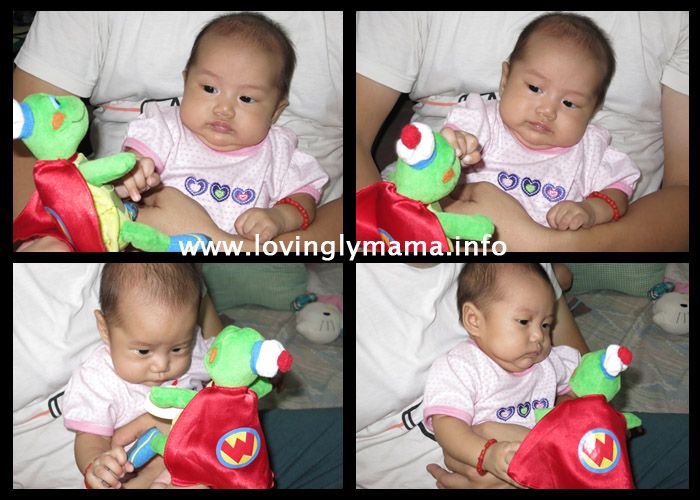 Today, Sunday, is Shane's 12th week. We opted to stay home and rest because this had been a pretty hectic week for all of us. Papa came home Monday night from a 6-day trip, Mama cooked because it was Papa's birthday, then Achi Dindin had a Trick or Treat Party, Shane had her second dose of PentaHib, and I did not have the cleaner yesterday so I had to change sheets, clean the room, and help in the cooking (as the other helpers also went home). So that means we are bushed.
As we were playing on the bed, we lifted a stuffed toy–Turtle Tuck of the Wonder Pets–to Shane. At first, Papa showed her the cape because it was red. But Shane sort of insisted that she wanted to look at Tuck's face. When the toy was turned, it was only then that she was pacified. Then she started grabbing at it. It was quite frustrating for her because she still could not aim well and hold the item in her hand but she is really trying. Many times she was able to grab the leg or the arm but she could not hold it very long.
This was the first time that she consciously grabbed at something. Of course, she used to grab things like her cloth diaper, her bed sheet, her former yaya's hair, or my shirt–but none were intentional.
So this is I guess her milestone on her 12th week.
P.S. And oh have I already mentioned that she has been calling me Mama already?