We were, or at least I was, invited to the opening of an art exhibit by Jojo Vito and other local artists entitled "Palangga" (Beloved). But since we don't have a baby sitter, I had to bring the entire gang (hubby and two kids) just so I could attend the event. Thankfully, the host was gracious enough to have us.
I am just so happy to report that at five years old, Dindin showed impeccable social graces. She greeted the people she met and introduced herself to the kids around. She also joined the band of local performers for a jamming session after the program. She was star struck with artist Nunistell Mae Fulo-Lee because of the latter's interpretative dance performance that Dindin greeted her afterwards. During meal time, she sat down with us and ate by herself. After the meal, we went around the gallery to check out the artworks, sculptures, furniture, and masks on display. There were many moments that we had to wait for things to happen, but she patiently waited–not a very common thing for a five-year-old. Am so proud of her today. 😀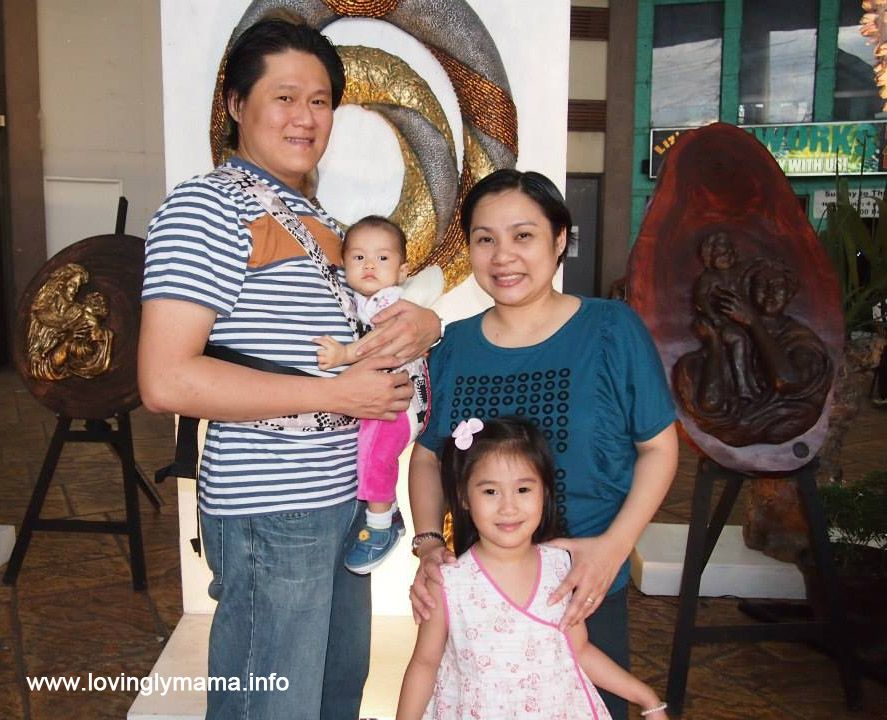 Meanwhile, hubby had Shane on the carrier most of the time and the little one took a nap, too. But after the program, she woke up and looked for me. I wore her again and while I was eating, I was feeding her with biscuit. Not once did she fuss. Very good baby. Hooray for babywearing!
All in all, very good children. This is the first social event that we attended outside for the family circle. Dindin did not have to use a tablet just to get occupied. She just looked at the exhibits and read the literature. Thank goodness for brochure printing.
It is nice to bring kids to gatherings like these because you expose them to different people and ideas. 😀 It opens their mind to many things–creativity, sounds, color, and meeting new people.
Well, we had a full day today. In the morning, we took both of them to their pediatrician for a check up because the two of them have cough and colds. And in the afternoon, we were off to the exhibit. But I am happy because there was no struggle at all this time. Thank you Lord!