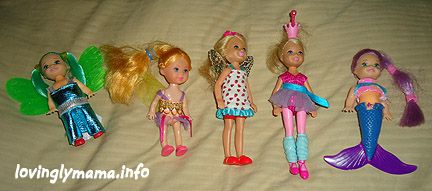 Meet Dindin's baby dolls. We call them literally baby dolls because of how Dindin has named them, as follows, from left to right: Baby Angel, Baby Fairy, Baby, Baby Barbie, and Baby Mermaid.
The other day, Dindin asked me to play with her and gave me Baby Fairy. This was the script she made.
Scene 1
Baby approaches Baby Fairy.
Baby (Dindin): Hey, Baby Fairy!
Baby Fairy (Mama): Hi Baby! How are you?
Baby (D): Fine. I'm going to Baby Barbie. C'mon!
Narrator (Dindin): The babies went to Baby Barbie (who was lying across a pillow. Dindin let the dolls fly while I let Baby Fairy walk. She looked down at my doll and wondered aloud why my doll is walking when she has wings).
Baby (Dindin): Let's fly Baby Fairy!
Baby Fairy (Mama): Oh sorry sorry, I forgot I have wings! Let's fly!
Scene 2
When the dolls reached the other side of the pillow, they excitedly chatted with Baby Barbie.
Baby Barbie (Dindin): Hi guys! blah blah blah blah
Narrator (Dindin): Baby Mermaid joined them.
Baby Mermaid (Dindin): Hey guys! Let's go for a swim.
Baby Angel (Dindin): That's silly Baby Mermaid. We don't have tails. We have wings!
************************
Okay! LOL I never had the chance to join the conversation anymore. My character, Baby Fairy, kinda just stayed and watched the whole thing while stifling my laughter. LOL