Last Sunday, we went to a resort with no name in Brgy. Alangilan, Bacolod City, Negros Occidental. Needless to say, it is a new resort with a pool filled with spring water from the mountains. The cottages are made of concrete. There is still so much to be done in this place, but that was fine with us because for a small entrance fee of P30 each for adults and P20 for kids, our purpose of going swimming was achieved.
The water was just too cold though! Brrrrr!
Anyway, Dindin had her all pink swim wear and pink swimming accessories. The swimsuit was given by Tita Doc Jen as her belated 2nd birthday gift to Dindin. The cute pink hoody was given by Tita Sansan during Dindin's first Christmas. Papa and Mama bought the pink Disney princess floaters and the pink Minnie Mouse beach ball.
Here she is giving a really nice smile for Mama in her pink hoody. 😀
I just thought that Dindin was too cute in her pink gears that I could not resist taking her photos! Below is a funny photo, when I said smile and clicked on the camera, Dindin bowed down her head that all we could see was the hood. I did not even know that there was a face there that we we looked at the picture, Papa and I laughed. When I showed the pic to Dindin, her eyes widened, probably wondering where her face went when she was with Papa when the picture was taken. LOL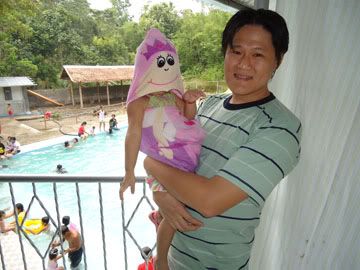 It's Pink Friday! Happy 4th Anniversary Papa! 😀