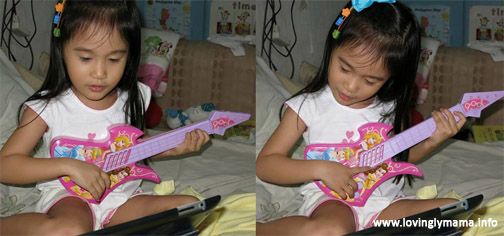 Almost every afternoon that I take a nap, Dindin keeps herself busy by just playing with her toys, drawing, or writing. She would not interrupt my sleep. She would just wait for me to move or get up before asking me for something.
Today, there was a different turn of events. You see, we have been looking for her two guitars–one plastic and one wooden–for several months already. I didn't want to buy a new one because if we find the two others, that would mean that she will have three toy guitars already. And that is already a guitar collection.
But it has been six months already and our search has led us nowhere. Dindin would keep asking us to find her guitars and we just couldn't find them. Then one night, she asked for her guitar key chain and when I gave it to her, she tried to play music on it. Awtttsss…I felt so sad that the next day that we went to the mall, I bought her another toy guitar for P120. I know it doesn't cost much but I just don't want to buy something that we already have because we really don't have much space in the house anymore.
And you know what, exactly 8 days later, my mother-in-law found the two guitars. I was like whaaaattt??? Anyway, I did not know what happened because I was taking my usual afternoon nap. When I woke up, I saw Dindin beside me pretending to play a wooden guitar and miming a song. It was then I realized that her other toy guitars were found. Although she was excited, she did not make a sound until she realized that I was already awake and it was the only that she sang loudly. She's soooo considerate! 😀
Anyway, at one point, she used the wooden guitar as a violin. haha She does like stringed instruments. Maybe eventually, we can get one of those affordable violins at musicians friend for her to practice on in the future. 😀