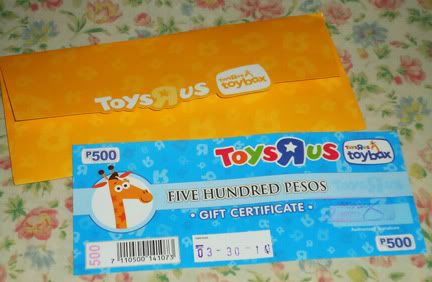 This is an update on the incident that happened to us at Toys R Us, Bacolod branch.
See related stories:
1. Bad Experience at Toys R Us Bacolod
2. The Price Tag Act
So I wrote the first article and looked for ways and means to reach the company in order that they may act on it.
The unfortunate event happened on Saturday, I wrote about it Sunday, I was able to send it through the contact form in their company website on Wednesday morning (because the Twitter and Facebook admins did not respond nor forwarded my complaint), and then thankfully, the Operations Manager for Toys R Us Philippines, Ms. Lynette dela Cruz, immediately sent me an email of apology Wednesday afternoon, hence the second article.
Then the next day, she called me up to apologize over the phone and asked me what they could do for me. I told her that actually, the fact that she already sent a letter of apology and called me up is already enough for me because I was not actually planning to sue the company or totally shun it from our shopping. She told me that the Bacolod officer will call me.
And so she did. She apologized, too, for the event and we met a couple of days later at her office. As a token, she presented me with a Toys R Us gift certificate worth P500.
I am very thankful because at least, I can say that somehow, there is still consumer protection in the Philippines. I am also happy that the company did not ignore my complaint. Actually, the Manila office thought that there was a scene at the store when the incident happened, but no, I did not raise my voice or anything because I am not that kind of person.
And Toys R Us, thank for caring and valuing our patronage. We will continue to shop there, as it had always been a favorite place of ours. And by the way, the Toys R Us gift certificate is a good idea if you do not know what to get a child during special occasions.